Primary school activities
Content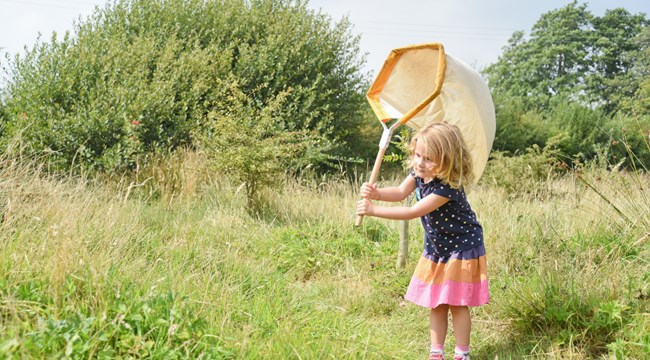 Would you like to involve your students in activities outside of the classroom to complement a topic or particular subject objective?  Activities will be tailored to suit the individual needs of each group and are delivered by experienced Education rangers.
We can bring learning to life both on our stunning nature reserves  and throughout the wider countryside across East Devon.
Read about the range of activities we offer below, and contact the Education rangers to discuss further.
Living things and their habitats
Enter the amazing world of creatures! Hunt for minibeasts, investigate rockpool habitats or discover the wealth of life that makes its home in the mud of the Exe Estuary.
Take part in hands on activities and games to discover incredible creatures you never knew were there. Use guides and keys to identify a range of animals and find out how creatures are adapted to survive the conditions of their habitat.
Pond and stream dipping
Use nets and white trays to discover the creatures living in the pond and stream habitats of the Seaton Wetlands or other suitable sites.
Duration: 1.5 hours    
Age group: Early years, KS 1, 2 and 3
Rocky shore (tide dependent)
Explore the rockpools of Beer beach, Exmouth or Sidmouth.
Duration: 1 hour 
Age group: Early years, KS 1, 2 and 3
Bug hunts
Look closely into the world of mini-beasts. Discover which bugs are living amongst the branches, long grass and rotting leaves and logs.
Duration: 1.5 hours 
Age group: Early years, KS 1, 2 and 3
Exe Estuary
Discover the wealth of life that makes its home in the mud of the Exe Estuary. Learn how the creatures have adapted to survive here.
Duration: 2.5 hours 
Age group: Early years, KS 1, 2 and 3
Winter wildlife
Take part in a series of hands on investigations and activities which demonstrate some of the different ways that wildlife is adapted to survive the challenges of winter.
Duration: 4 hours (whole day) 
Age group: KS 1 and 2
Map work and compass skills
Can you navigate one of our nature reserves without getting lost?
Use a key to 'unlock' the symbols on a map and, armed with a compass, can you successfully navigate the site to find all of the letterboxes, clues or controls? The more adventurous could also make their own maps, orienteering challenges or trails for others to follow.
Duration 2 hours (half day) 
Age group: KS1 and 2
Naturally creative
Create a colourful masterpiece, piece of jewellery, craft or imaginative model using materials collected from the natural environment.
Marsh monsters
Use your imagination to create a fictional character using air drying clay and natural materials, such as leaves, flowers and twigs, collected from the nature reserve.
Duration: 1.5 hours. 
Age group: Early years, KS 1, 2 and 3
Natural art
Use the natural world as your inspiration - create images using only leaves, twigs, flowers, plant stems and anything else you can find in your surroundings. Work in a similar style to Andy Goldsworthy, the famous artist. Take these pictures home as hanging window art and colourful collages on card, or create pictures amongst the grass and leaves on the ground.
Duration: 2 hours
Age group: Early years, KS 1, 2 and 3.
Hedgerow crafts
Make small crafts to take home using materials foraged from around the site. Activities may include making paint from mud and squashed plants, creating willow and rush fish or pine cone creatures. For the more adventurous- use small tools for making elder beads or charcoal or learn the skills to make a lashed picture frame.
Duration: 2 hours 
Age group: KS 1, 2 and 3
Make space for wildlife
Get hands on to give nature a helping hand. Depending on the site and season you could create a log pile, minibeast mansion, make a bird feeder or take part in practical conservation activities.
Duration: 2 hours / 4 hours (half or whole day) 
Age group: KS 1, 2 and 3.
Nature explorers 
Use all of your senses to explore the wonderful world around you. Through a series of fun and hands on activities and games you will gain a better understanding of the natural world.
Activities include:
Look:
Search for natural colours as jewels for a bracelet or decorate a sticky caterpillar.
Find an exact colour match for your 'rainbow chips'.
Hide and find camouflaged woolly 'caterpillars'.
Hunt for and collect natural treasures from a scavenger hunt list.
Listen:
Spend time listening carefully to the sounds around you. Can you identify which sounds are natural and which are man-made? Use your body to create a symphony inspired by the sounds you hear.
Go for a noisy walk, scrunching through leaves, swishing through long grass and sloshing through puddles.
Touch:
Fill the different sections of an egg carton with textures found in the natural world; something soft, something spiky, something bumpy, something smooth.
Lead a blindfold partner on a 'feely' walk. Can they identify the things they have touched when their blindfold is removed?
Smell:
Collect and mash wild ingredients to create a 'smelly cocktail' to share with your friends.
Taste:
Where appropriate we can forage for some wild tastes (blackberries, wood sorrel, hazel nuts).
Duration: 1 hour / half or full day 
Age group: Early years, KS 1 and 2
Rivers
Explore a river habitat, measure flow, take a profile of a meander and calculate water quality by surveying freshwater invertebrates.
Duration: 4 hours (whole day)
Age group: KS2 & 3
Rivers pack
Studying Rivers with your class this term?
Available to teachers is The River Axe & The Seaton Wetlands teacher resource pack for KS 2 and 3.
The Wetlands Rivers pack is a fully comprehensive teacher resource pack for KS2 and 3.  Eight question led enquiries support pupils to investigate key features and issues along the river Axe whilst making global comparisons.
Background information and resources on each enquiry is provided for teachers so that they can be fully confident in managing learning both inside and outside of the classroom.
For more information, or to request a copy of the pack please contact wild@eastdevon.gov.uk.
Story adventures
Bring literacy alive outdoors.
Find letters left by story characters asking for help. You will need your wits about you to follow trails, solve problems, overcome challenges and maybe even meet a few of the characters along the way.
Stories and themes include:
Bear hunts
Pirates
Three little pigs
Dinosaurs 
Father Christmas!
Duration: 4 hours (whole day)
Age group: early years, KS1 & 2
Working well together
Can you work in small groups to build rafts to rescue a bear, cross a crocodile-infested swamp or light a fire with a spark?
Overcoming practical challenges in an inspiring outdoor setting is a fun and exciting way for groups to develop positive relationships and teamwork skills.
Mini-raft building challenge
Use natural materials and resources to build a mini-raft which can carry a small stuffed toy animal down river. Whose raft will keep the animal dry? Whose will be the fastest?  
Duration: 1.5 hours       
Age group: KS 1, 2 and 3
Cross the 'Swamp'
Can your team successfully cross the 'swamp' using just the equipment provided, or will you have your toes nibbled by the 'crocodiles' that live beneath?       
Duration : 1.5 hours      
Age group: KS 1, 2 and 3
Fire lighting challenge
In teams, successfully build and light a small fire and be rewarded with a delicious toasted marshmallow.  
Duration: 1.5 hours        
Age group: KS 1, 2 and 3
Surviving in the wilderness
Build a den to protect you and your team from the wind and rain. Light a fire to keep your team warm and get cooking with some interesting campfire recipes.                                                                   
Duration: 4 hours (whole day)   
Age group: Early years, KS 1, 2 and 3
Letterbox trails
Individually or in teams, follow a map to navigate around one of our nature reserves. Can you find all the letterboxes and collect all the ink stamps? 
Duration: 1.5 hours 
Age group: Early years, KS 1, 2 and 3