Content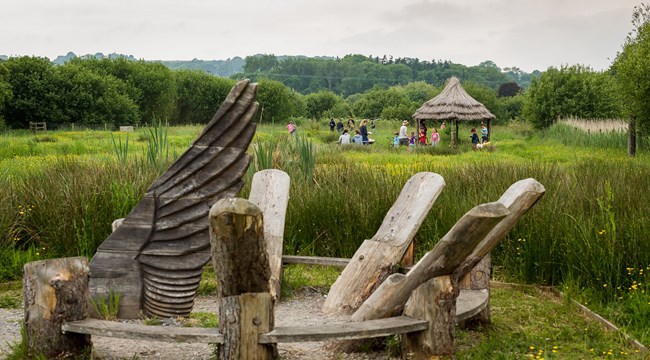 Please note that Seaton Wetlands is a dog-free nature reserve
Explore the award winning Seaton Wetlands and enjoy beautiful marshland and reedbeds alongside the River Axe. There are five bird hides and nearly 4km of level trails and boardwalks suitable for wheelchair, bike and pushchairs. A countryside haven, home to an abundance of wildlife.
Directions to Seaton Wetlands
Seaton Wetlands is 6 miles west of Lyme Regis and 8 miles east of Sidmouth, between Colyford and Seaton.
Seaton Wetlands is made up of four main sites: Seaton
 Marshes, Black Hole Marsh, Colyford Common and Stafford Marsh.
Accessing Black Hole Marsh, Colyford Common and Stafford Marsh
Directions to the main car park: In the middle of Colyford village on the A3052 take the Seaton Road, following the brown signs labelled 'Seaton Wetlands'. After half a mile
 turn left into Seaton Cemetery, continue through to the Seaton Wetlands car park. The nearest postcode is EX12 2SP.
We ask for a £1 donation for car parking.
Accessing Seaton Marshes
Directions to Seaton Marshes: Continue past Seaton cemetery and take the left turn immediately after Seaton Football Club into Hillymead. Pass Axe Vale Static Caravan Park entrance on your left and park in the spaces opposite the water treatment plant. The nearest postcode is EX12 2DF. This part of the reserve can be easily accessed from Seaton via foot, using the footpath by the Underfleet play park.
There is no path between Seaton Marshes and the main site. To travel between the two you will need to use the Seaton to Colyford Road (via car or foot) approximately 0.6 miles.
Information on the reserve
Seaton Marshes
A freshwater grazing marsh, with scrapes, ditches, the Borrow Pit Pond and a bird hide.
The area attracts considerable wildlife interest, from wildfowl and wading birds in the winter to dragonflies and butterflies in the summer. Otters have been spotted at the Borrow Pit Pond! The site is managed by Wild East Devon on behalf of Axe Vale and District Conservation Society.  
This part of the reserve is accessible for wheelchairs and pushchairs.
Black Hole Marsh 
Panoramic 360 degree views over the inter-tidal lagoon and estuary. Look out for wading birds, ducks and kingfishers. Remember to wave to the tram as it passes!
BHM was bought in 2008 by Wild East Devon. Following planning approval, we created a saline lagoon on what was previously a drained agricultural field, with little wildlife interest. Islands were created on a large shallow scrape. The Environment Agency worked with a local engineering company to devise an innovative self-regulating tidal exchange gate, allowing water of just the right salinity to enter the lagoon.
It attracts breeding oyster catchers and now well populated with crustaceans and molluscs that support a wide range of wildfowl and waders. Birds to be seen regularly include dunlin, black tailed godwit and ringed plover.
Colyford Common
Walk to the peaceful bird hide and viewing platform and discover a circular route around the reedbeds.
Is regularly flooded by high tides, so this salt-marsh has very unusual flora and fauna, supporting many locally rare and nationally important species. Little egrets fish in the creeks and lagoons on the estuary and large black and white shelduck can be seen grazing here. Wheatears flit across the common, and there is evidence of water vole in the reed bed close to the village.
The Colyford Common bird hide offers fantastic views across the upper reaches of the estuary and surrounding salt marsh. There is also a viewing platform further north which gives great views of waders such as curlew in winter.
Stafford Marsh
Explore the wildlife garden and enjoy a picnic in the heart of the wetlands. Find out more about the site, hire pond dipping equipment and grab a coffee in the Discovery Hut. Open Saturday, Sunday and Monday 10am to 4pm. Site toilets located here.
Discovery Hut
The Discovery Hut is staffed by volunteers Friday to Monday, 10am to 4pm. When the hut is open you can find out more about the Wetlands, hire pond-dipping equipment and purchase drinks and snacks (biscuits and cereal bars). Contact the team to check opening hours before your visit or to arrange additional opening for a group visit.
Next door to the Discovery Hut are toilets including an accessible toilet and baby changing which are always open.
Reed Base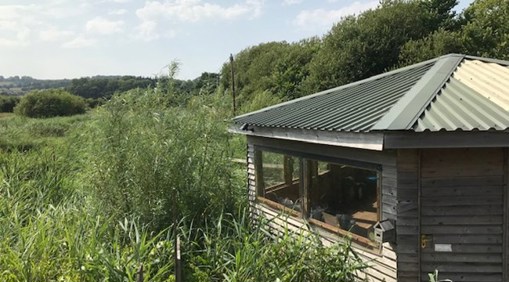 The Reed Base is a unique location for corporate events, classes and birthday parties. Seating space for up to 30, WiFi, projector and basic refreshment facilities available. Contact the Wild East Devon team for rates and to arrange a visit.
The Lookout
This is the site office and is often staffed by a member of the Wild East Devon team during the week.
It is an information hub on the main path as you enter the wetlands from the car park.
See a map and more information for visitors on the digital version of the Seaton Wetlands leaflet.
You can also find information about our Sculpture Trail at The Lookout.
Visit the local Flip Flops or Wellies blog for a visitor's view of experiencing Seaton Wetlands.
Directions
Get directions to Visiting Seaton Wetlands nature reserve with Google Maps.
Parking
Car parking is available through Seaton Cemetery. Park here to access Black Hole Marsh, Colyford Common and Stafford Marsh. The nearest postcode is EX12 2SP.
A smaller parking area is available through Hillymead at the entrance to Seaton Marshes. The nearest postcode is EX12 2DF.
Best time to visit
You will see different birds during your visit depending on the time of year. Check the white board at the Discovery Hut and Lookout to see what other visitors have already spotted.
Opening times
Seaton Wetlands is open 24 hours a day, 365 days a year. There is no charge to visit but donations for car parking, visiting and refreshments are welcomed.
Facilities
Car park, toilets (accessible and baby changing), picnic area, 5 hides, 3 pond dipping platforms, Discovery hut, pond dipping equipment for hire and refreshments available at weekends, classroom available for hire, Education ranger services.
Access
Off-road mobility scooter (Tramper) for hire
The Discovery Hut Hide, Islands Hide and Colyford Common hide are wheelchair accessible.
Wheelchair accessible toilet
Walking information
Wheelchair and pushchair friendly paths. Cycling welcome on most of site.
Dogs
No dogs (except assistance dogs).
What3Words Locations:
| | |
| --- | --- |
| Car Park | solves.glows.wrenching |
| The Lookout | slicer.nuzzling.funded |
| The Discovery Hut | qualify.plants.archduke |
| Reedbase | marzipan.double.number |
| Tower Hide | universal.recruited.flexibly |
| Island Hide | snowboard.sweat.gobbling |
| Colyford Common Hide | cutlets.fatigued.forgiving |
| Colyford Common Viewing Platform | petrified.rocked.spirits |
| Discovery Hut Hide | waking.vented.amended |
| Toilets  | clearly.taxi.depth |
| Pond Dipping Shelter | walkway.crusted.employers |
| Seaton Marshes Car Park | eggshell.frown.using |
| Seaton Marsh Hide | lend.grudges.decently |
| Borrow Pit | occupy.competent.custodial |