Trinity Hill Local Nature Reserve
Content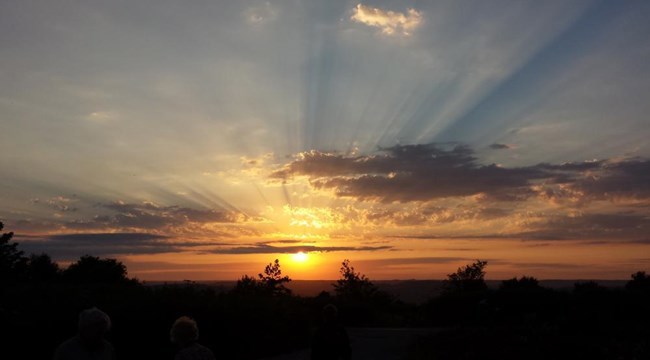 Our Trinity Hill Local Nature Reserve is our most easterly site, a natural oasis close to the town of Axminster.
Trinity Hill is a substantial area of lowland heath with a network of footpaths allowing easy exploration of this beautiful nature reserve which extends either side of Trinity Hill Road. To the west, breath taking views present themselves across the Axe Valley towards the town of Axminster. The site is being managed by Wild East Devon to support a wide range of wildlife and to restore a structurally diverse heathland landscape.
During the day, moths lie-up in the heathers waiting for nightfall. The heath supports a vast number of different moths, some with beautiful or odd names such as True Lovers Knot, Peppered Moth or the Drinker.
Patches of bare, sandy soil warm very quickly in the sun and attract animals that require heat, like common lizards.
Look out for Linnets singing from tall shrubs on the heath in the late summer. This bird is doing well here although numbers are falling nationally.
In 2015, the reserve was awarded Dark Skies Discovery Site status. This means that it is a great place to go for stargazing because it is away from the worst of any local light pollution, it provide good sight lines of the sky and has good public access.
Look out for grazing animals up there and please visit responsibly.
Visit the local Flip Flops or Wellies blog for a visitor's view of experiencing Trinity Hill.
Trinity Hill Local Nature Reserve is about two miles south east of Axminster. Take the A35 from Axminster towards Lyme Regis and just before Raymond's Hill turn right onto Trinity Hill Road. The car park is on your left after about 1km. The site has no postal address; nearest postcode is EX13 5SS. What3Words: Car Park ///composers.monks.somewhere
Directions
Get directions to Trinity Hill Local Nature Reserve nature reserve with Google Maps.
Parking
There is a free car park at Trinity Hill with spaces for four vehicles
Opening times
All Wild East Devon Nature Reserves are open free of charge to the public at all times.
Facilities
Free parking
Dogs
Dogs are welcome but please keep them under close control and clean up after them.