The Maer Local Nature Reserve
Content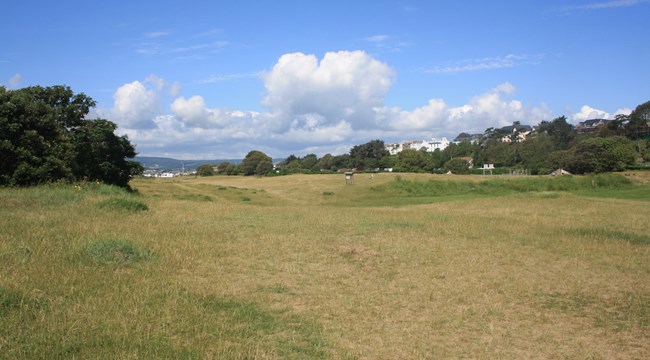 Ideal for a quiet stroll just away from the busy sea front and a secret haven for wildlife.
The Maer Local Nature Reserve is Exmouth's worst-kept secret, a fantastic green space so close to the famous seafront. Ideal for a quiet stroll just away from the busy beaches and a secret haven for wildlife.
The warm, sandy soil at The Maer provides perfect conditions for insects. Many unusual solitary Bees and Wasps make their nest tunnels in the sand and get on with raising their larvae out of sight of the casual observer – look for tiny Bees flying out of holes in the ground. 
Skylarks are a species of British bird that have suffered a massive decline in recent years. However, there are still a handful of pairs that regularly use The Maer in the summer months for breeding. If disturbed a skylark will fly up singing loudly, filling the air with its beautiful call.
The harsh soil conditions mean that specialised and rare plants can grow on this site. Many small, unobtrusive plants, including a number of tiny grasses, survive on areas of bare soil eroded by visitors. Sea Holly is locally rare, but grows very well on the seaward side of the nature reserve. Looking like a small blue-grey thistle, Sea Holly is actually a member of the carrot family! There are many different species of Clover growing here, including several nationally important species. Look out for the fluffy flower heads of Hare's Foot Clover between June and September which, as its name suggests, resemble little rabbit feet – unmistakable.
#wildeastdevon #themaer #exmouth #naturereserve #devon
Location
On the A376 to Exmouth, follow signs to the seafront. Drive towards the eastern end of the esplanade and park. The Local Nature Reserve lies behind the large sand dunes. What3Words: West Entrance ///nuns.dash.fine East Entrance ///lower.ocean.saying
Directions
Get directions to The Maer Local Nature Reserve nature reserve with Google Maps.
Parking
There is a pay and display car park opposite The Maer
Best time to visit
In early summer you can watch the blooms of the Evening Primrose opening (as its name suggests) in the evening.
Opening times
All Wild East Devon Nature Reserves are open free of charge to the public at all times.
Facilities
Play trail, mobile challenge for use with smart phones
Walking information
There are no formal access paths around the nature reserve, and you are free to explore fully.
Dogs
Dogs are welcome but please keep them under close control and clean up after them.