Holyford Woods Local Nature Reserve
Content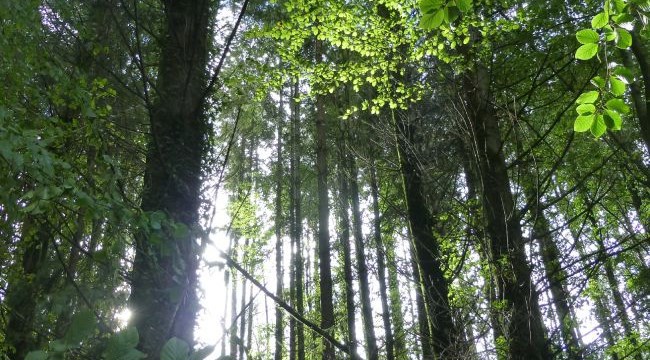 A tranquil woodland teeming with wildlife, ideal for a family outing.
Holyford Woods is a beautiful woodland, nestled in a picturesque valley near Seaton. The site is managed by Wild East Devon.
The site was purchased in 2001 with funds raised by the local community. In 2020 a new management partnership was established between Wild East Devon and the Axe Vale & District Conservation Society.
Oak, Ash and Hazel abound at Holyford Woods where birds nest in tree holes, Bats roost in handy crevices and tangled roots can provide nest sites for Weasels and Wood Mice. A goyle, or sunken stream runs through the heart of the woodland, feeding the Stafford Brook which runs into the Axe Estuary at the nearby Colyford Common Local Nature Reserve.
The site offers great walking throughout the year with various routes available using the public and permissive footpaths around the site.
Park at the Seaton Down picnic site opposite Seaton Tower garage, on Seaton Down Hill Road. Walk back to the A3052 and carefully cross the road, taking the footpath signed Holyford Woods Local Nature Reserve. Walk down the field to the entrance gate into the woods. The nearest postcode is EX12 2TF. What3Words: Entrance ///launched.masses.stroke
Directions
Get directions to Holyford Woods Local Nature Reserve nature reserve with Google Maps.
Parking
Parking is available at the picnic site at the top of Seaton Down Hill.
Plan your route with the Holyford Woods map.
Best time to visit
In spring the heady scent of wild garlic hangs in the air. A liberal sprinkling of delicate white wood anemones in early spring is followed by carpets of bluebells in late April/early May.
Opening times
All Wild East Devon Nature Reserves are open free of charge to the public at all times.
Walking information
There is a steep footpath down to the woods from the A3052, and some steep paths within the woods. These may be muddy after rain, so stout boots or wellies are recommended.
Dogs
Dogs are welcome in the woods, please keep them under close control and clean up after them.