Exmouth Local Nature Reserve
Content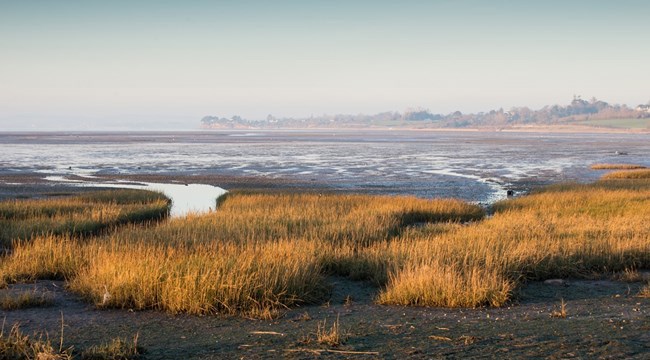 An estuary nature reserve like no other.
Exmouth Local Nature Reserve is a massive area of tidal sand and mud at the southern end of the Exe Estuary. It is a globally important area of overwintering waders and waterfowl. In the autumn thousands of birds fly from the freezing Arctic to spend the winter months on the estuary, one of Devon's most impressive natural spectacles.
Dark-bellied brent geese make their way to this place every year in September. During the winter months, other wildfowl crowd into the estuary to feed - look out for huge flocks of wigeon and graceful pintail ducks.
Walking out over the sandbanks at low water offers you the chance to get away from the bustle of the town and explore a wilderness in the middle of the estuary.
The Exe Estuary Management Partnership (EEMP) in conjunction with the South East Devon Habitat Regulations Partnership have produced Codes of Conduct for users of the Exe Estuary.
Location
On the A376 to Exmouth, follow signs to the town centre and docks, and park in the Imperial Road car park, located next to the swimming pool. From here you can venture out onto the nature reserve and explore this beautifully wild place. The Local Nature Reserve is very close to both Exmouth railway and bus stations and is easily accessed from any bus or train service to the town. The nearest postcode is EX8 1DG. What3Words: Footpath Entrance ///transmit.assurance.matter
Directions
Get directions to Exmouth Local Nature Reserve nature reserve with Google Maps.
Parking
The Imperial Road pay and display car park is located next to Exmouth swimming pool.
Best time to visit
The spectacle of thousands of birds feeding on the estuary during the winter is a truly special sight. There is a flower-rich bankside in the summer and is an important site for invertebrates.
Opening times
All Wild East Devon Nature Reserves are open free of charge to the public at all times.
Access
The weasel run, part of the East Devon Way, which runs alongside the nature reserve is accessible to wheelchairs and offers great views across the estuary.
Walking information
Out on the sand there are no formal access routes, so you are free to explore this wild area. Please be careful when walking out on the mud, as it can be very deep in some places. If you are at all unsure about whether or not it is safe, turn back immediately and retrace your steps - wellington boots are a must for this nature reserve. Crossing creeks between the sandbanks can be dangerous as the incoming tide can quickly isolate large areas. Always be aware of the tide times for your own safety.
Dogs
Dogs are welcome on this nature reserve, but please keep them under close control and clean up after them. Appropriate behaviour is encouraged, particularly at the crucial time that the birds are here on migration between September and February.